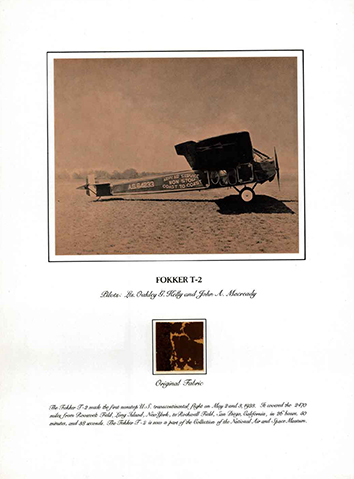 The Fokker T-2 flew non-stop from New York to San Diego, despite fog, mechanical problems and uncertain navigation through rainstorms.
The Fokker T-2 is now in the permanent collection of the Smithsonian and famous as the first to fly coast to coast – non-stop. Just 12 years earlier, the Wright Vin Fiz flew coast to coast – in 55 days with 70 landings in a dozen states!
It was an impressive aircraft with an 80 foot wingspan and built for the U.S. Army Air Service by the Netherlands Aircraft Company, founded by the Dutch aviation pioneer – Anthony Fokker. It was reconfigured for the long flight by adding extra fuel tanks in the wings and a second set of controls in the rear cabin.
Two Army Air Service lieutenants, Oakley Kelly and John Macready, made their first coast-to-coast attempt flying from west to east in an effort to take advantage of the prevailing westerly winds and higher octane gas in California. They took off from San Diego but fog in the mountain passes turned them back.
●FREE SHIPPING on orders

of two or more relic prints – mix or match.
●We will ship directly to anyone on your list with a greeting from you.
On their second attempt, Kelly and Macready made it through the mountains and flew as far as the midwest when the water jacket on their Liberty V-12 engine developed a leak. With only one thing in mind, reaching New York, they began pouring everything they had into the radiator – coffee, drinking water and some beef consommé. Losing altitude and with no more fluids on board, they sighted and considered the Indianapolis Speedway for an emergency landing site but limped another 15 miles to the US Army's Ft. Harrison.
While inflight, the lead pilot sat up front in an open cockpit right next to the engine with the leading edge of the wing as a headrest. It was grueling work because of the engine noise, slipstream, exhaust and heat. "Sitting next to that engine in the open cockpit was like sitting shoulder-to-shoulder with your best girl in a 2-seat roadster. Except instead of soft music playing on the radio, all we heard was that big V-12 Liberty engine belchin' exhaust while it was spittin' oil." After having had enough and in need of relief, he yanked on the steering yoke to alert the other pilot who took over and flew blind with a secondary set of controls in the rear cabin. The pilot up front then removed his seat back and slithered through a narrow tunnel and switched places with his partner. Both were involved in navigating the aircraft and since there were no aeronautical charts available in 1923, they relied on Rand McNally road maps and "dead reckoning."
On their third attempt they flew from east to west – Long Island to San Diego – and were so heavily loaded with fuel on takeoff, they just barely cleared trees and telephone lines. There was no radio intercom in the T-2 so when Kelly and Macready wanted to communicate while in flight, they did so with penciled notes passed over a belt-like, string-and-clothespin message carrier. After the risky Long Island takeoff, a penciled note Macready sent on the "intercom" to Kelly up front read, "I'll bet the New Yorkers got a kick from that takeoff. You handled a tight situation and deserve a lot of credit."
At one point during that third flight, Kelly shook the steering yoke signaling Macready to take over the controls and change places. As difficult as it was to fly virtually blind from the rear cabin with no line of sight, Macready managed to fly on for a half hour, wondering whatever happened to Kelly. Because the voltage regulator was discharging, they were flying on battery power alone, so Kelly had removed the regulator, repairing and then replacing it on the engine. Another in-flight emergency solved!
After flying almost 27 hours, part of it at night, through thunderstorms and fog with no rest – Kelly and Macready made it happen. They landed at Rockwell Field, San Diego on May 3, 1923. Elapsed time: 26 hours 50 minutes. Average ground speed for the 2470 miles was 92 mph. Their historic coast-to-coast flight carried them over the following states. New York – Pennsylvania – Ohio – Indiana – Illinois – Missouri – Kansas – Oklahoma – Texas – New Mexico – Arizona – and California.
The Fokker T-2 non-stop flight was a huge accomplishment for 1923 and showed that long distance air travel was indeed possible – helping to pave the way for commercial air carriers.
The 4-square inch swatch of original fabric included with this 15″ x 20″ relic print was preserved when the Smithsonian restored the Fokker T-2 before installing it in the permanent collection of the National Air and Space Museum where it can be seen today. Also included is a signed Certificate of Authenticity and 2 pages of colorful historical information on this aviation milestone along with aircraft specs. An extraordinary flight and an opportunity to own a piece of aviation history.
CLICK TO ENLARGE!
Proceeds from this website are funding Ceiling and Visibility Unlimited – a weekend aviation camp for at-risk kids.


Want to send a gift for Christmas or other special occasion? We will ship directly to them and include a message from you.
Our supply of the Fokker T-2 relic prints is limited to the fabric preserved when the aircraft was restored by the Smithsonian Institution.
The 100th anniversary of this extraordinary flight will be celebrated in 2023.